to...Achates Bostons, LLC.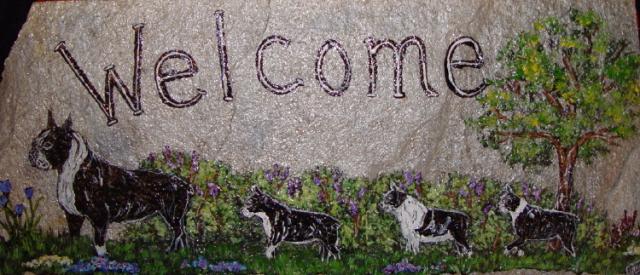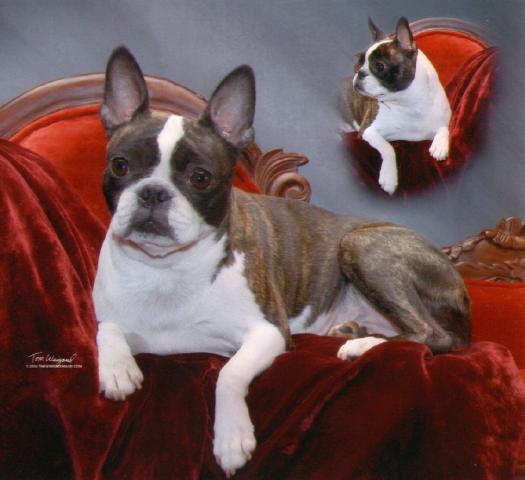 Ch Bleugras Jolie`Of Buena Vista, CGC, ROM*
                               "Jolie"
Our first love was Doberman Pinschers.......
Not long after getting married we started our search for a family dog after we moved into our first home.  We were living in Lancaster, PA and we bought a beautiful Irish Setter from a Show Breeder in Philadelphia.  He was from the much coveted Thenderin line out of California.  He only had 1 testicle so he was available as a Pet.  We named him Rusty.  Unfortunately we lost him to torsion in 1983.   And that is when our search for our first Doberman started.  Here is Rusty and Tangerine sun bathing on our deck and a portrait of Rusty a friend painted for us as a surprise.
When we first got married we were renting a townhouse and the only pets allowed were cats.  We found a Show Breeder and she had a Red Tabby Persian available.  She had a tuft of hair growing beside her ear on the top of her head that did not belong there.  So we bought her as a pet and the kids called her Tangerine.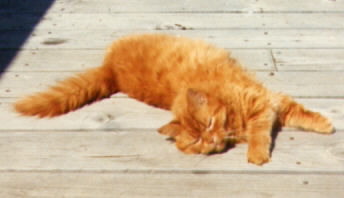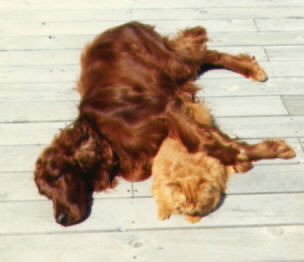 After Rusty passed away in 1983, we decided it was time to buy our first Doberman.  Scott was a freshman in College and Paul was in 3rd grade. Barb, a woman who worked at Scott Paper in Oconto Falls, WI for Lou, came into work all excited one day because she had just bought a Doberman.  She gave us the name and phone number of who to contact, so we could go see the other puppies.  We were told the puppies were Fawn colored, and not knowing anything about the breed, we took Mary Lou Lane, the Breeders word for it.  We bought a little male we named Dusty. I have to look through old photos and scan one in here for you to see.  Lou worked with him in obedience in our yard.  All of the dogs in this litter turned out to be mean.  One was shot by a neighboring farmer.  And we put ours down in 1991 after he bit ours son's friend in the face.  Dusty was put down as soon as my Vet office opened on Monday morning.  We learned a very hard lesson as to what a Back Yard Breeder really was.
After being transferred back to the Philadelphia area, in Glen Mills, we started our search for a playmate for Dusty and searched for local breeders. That is when we found Lavina Peticca known as Inky, of Drakenberg Dobermans and she became my Mentor.  After seeing Dusty she told us he was not Fawn and not even a real Doberman.  We bought our first real Doberman from her that we named Joy, Drakenberg's Joie De Vivre.  Joy ended up growing above the height for the breed standard, so there went our first show dog.  But what a great Doberman she was.  She loved anything that moved and breathed.  Joy would catch birds out of the air and bring them to me.  She never hurt them.  I would set them down outside the fence and they would come out of shock and fly away.  She once found a nest of baby bunnies in our back yardafter a downpour.  We tried to save them.  After I fed them and laid them down on the towel, Joy would lay down with them and nuzzle them into her tummy area to keep them warm.  When Scott married Mary, we became instant grandparents to Austin.  And Joy adopted him immediately.  They were best buddies until we lost her to Osteoscarcoma.
When Inky had her next litter we opted for a black & tan male we named Nathaniel.  Drakenberg's King Kohl.  He was in a few shows in the Philadelphia area shown by Gwen DiMilta and then we were transferred back to Wisconsin again, but this time to the Neenah area as Lou was to run the plant in Oshkosh.  So we were hooked up with Dave Goldfein and Dave showed Nathaniel a few times but he never won any points.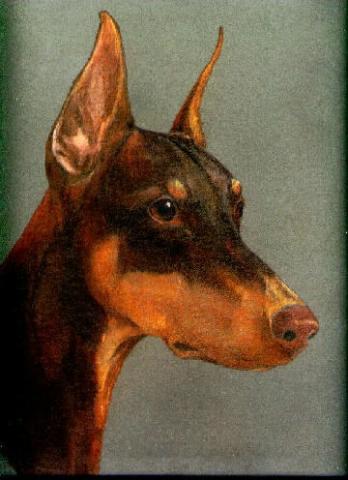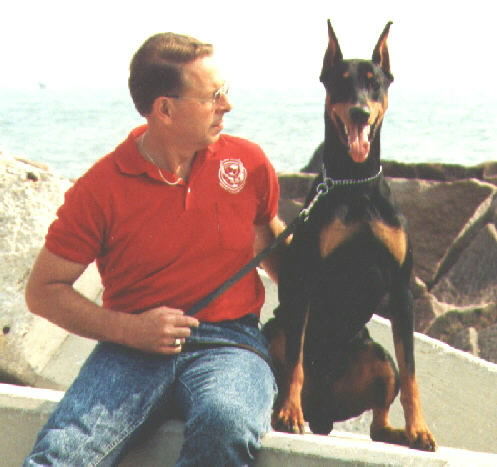 Lou with Nathaniel on the breakers at Pershing Park, Wisconsin.
Fast forward to being moved back to Philadelphia again and we waited for a black & tan girl we named Jenny, Drakenberg's Portrait of Jenny.  She was another love but not show quality.  We had Jenny for years until she was diagnosed with Chronic Active Hepetitis and we lost her 6 weeks later, however we were living back in Wisconsin in our present home when she passed.  Nathaniel had been diagnosed with Osteoscarcoma in his front right chest.  His tumor grew so fast he passed just shortly after we lost Jenny.  That was a very tough time in our lives loosing 2 great dogs so close together.
Inky's next litter we got a red boy who we named Rhett, Drakenberg's Symphony In Red. He was our first Champion and also received his CGC, WAC and TDI.  Rhett passed on from Cardiomyopathy at 8 years of age.
We had another black bitch nammed Belle for a short period of time.  But when she turned out not to be show quality, she went back to live with a friend of Inky's in New Jersey.  They had her for years until one day she ran into a tree chasing a squirrel and broke her neck, dying instantly.  Bell was produced using 20 year old frozen semen.
We had another Red bitch for a short period of time.  She was out of Carol Petruzzo's Bastaque, Ch Carousel's Make My Day.  Unfortunately while Carol had her at The Cow Palace in MD for shows, Dolly fell out of her crate from the upper level.  She received injuries that ended her show career.  Holly lived out her life with friends Frank and Helen Spur that lived on Honey Bear Ridge in Virginia.
Here we go with another red head.  Scarlett, Drakenberg's Quite a Dish.  Scarlett was shown by my friend Sandy Solcz, but never made it past Reerve.  She was my Reserve Queen.
I bred Scarlett to my Rhett 2 different times a year apart.  The first time she was 10 days shy of her due date when she had a very high fever and went into spontaneous abortion.  At that time Lysteria was being talked about alot on TV.  She had picked up Listeria and the 4 little red bitches lived only a few hours.  Their necropsy showed lesions on their liver from Lysteria.  What a tragic loss.  I was just devestated.  A year later we tried to repeat the breeding and ended up with a dog and a bitch that we named Bonnie and Beau.  Bonnie had several Reserves but became a bit to dog aggressive.  She went to Philadelphia to live with Dean Kogan, a long time Doberman owner.  Dean owns Society Hill Playhouse and Bonnie was her constant companion until the day Bonnie died.  Thank you Dean for loving our red girl!  Beau was almost a Champion and needed that last 3 point Major to finish.  He had a chronic prostate problem for almost 2 years.  And then when he had torsion, I just decided to neuter him.
So now our search is on for our 12th Doberman........
This brings us to our last red headed Doberman Syrah, Drakenberg's Wine and Roses, CGC, CD.  Syrah was sired by BIS BISS Ch Ravenswood Southern Cross, known as Rio.  He was the #3 Doberman handled by Diego Garcia as he began his career as a Professional Handler here in the US with Betty Clark starting his career.  Syrah was the sweetest thing ever put on earth.  She too was diagnosed with CAH at 1.5 years of age.  However this time with the help of Dr. Jean Dodds, we were able to keep Syrah doing really well for over 10 years.  Sleep softly my sweet girl!  Syrah left us in July of 2013, in my arms, just like all my other Dobermans before her.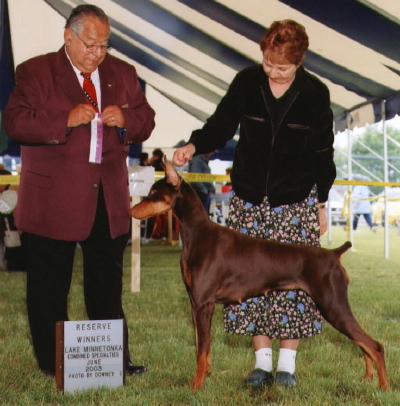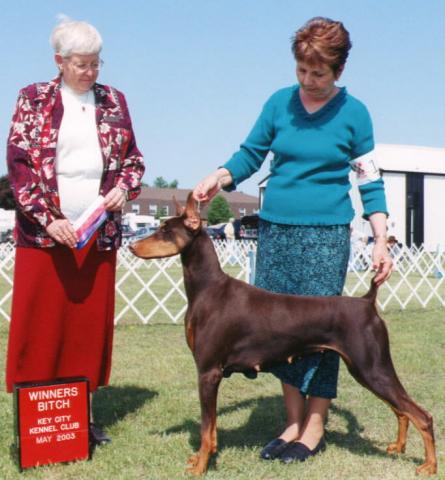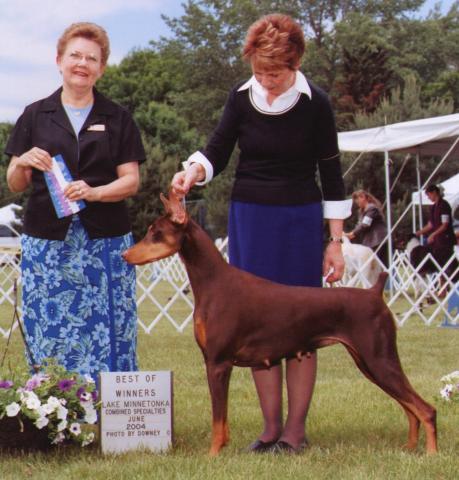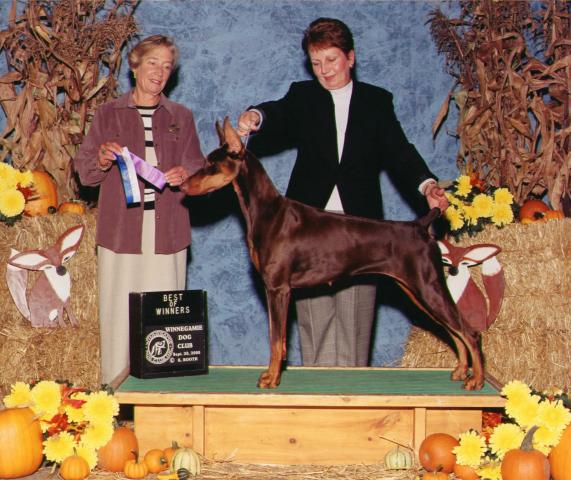 Destiny, Ch Kennedy's The Legend Gets Better At Achates
and Syrah busy chewing on bones.