to...Achates Bostons, LLC.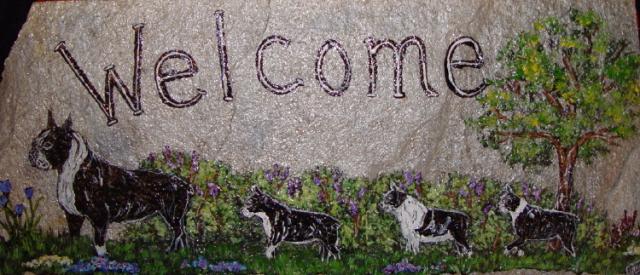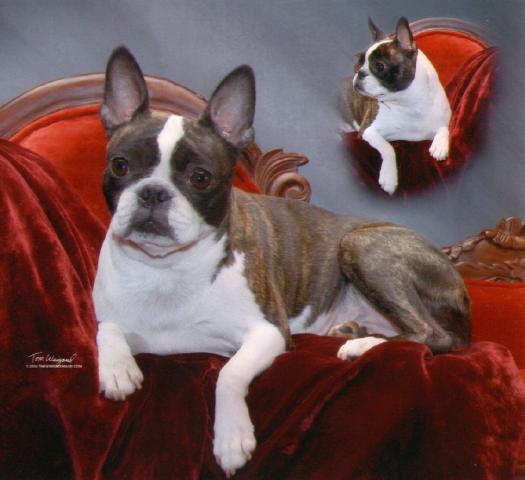 Ch Bleugras Jolie`Of Buena Vista, CGC, ROM*
                               "Jolie"
This is our 40' Prevost LeMirage XL Motor Coach.
Conversion by Royale.
Our dogs travel in comfort with us every where we go!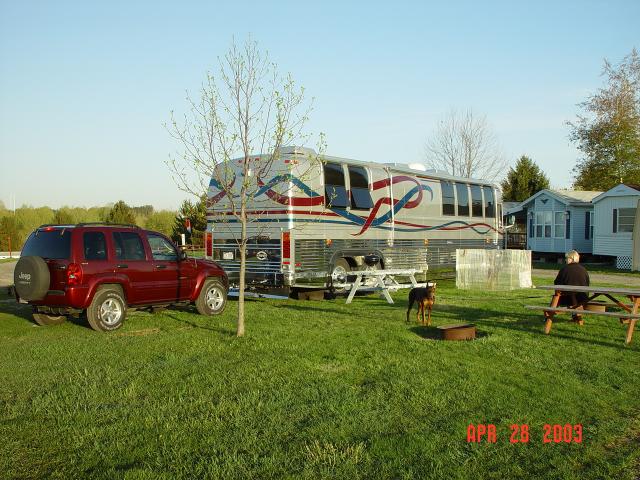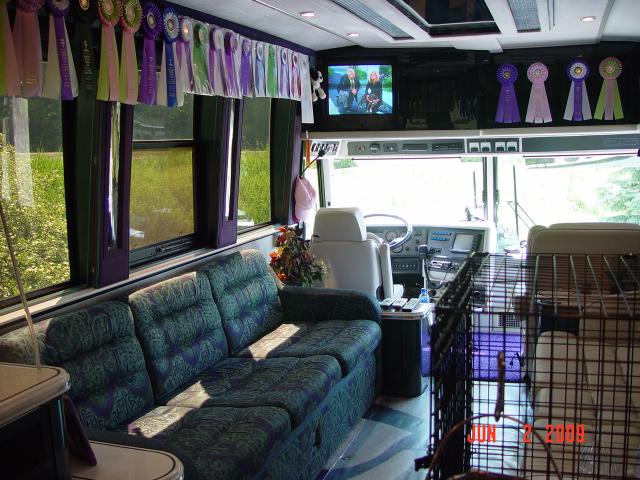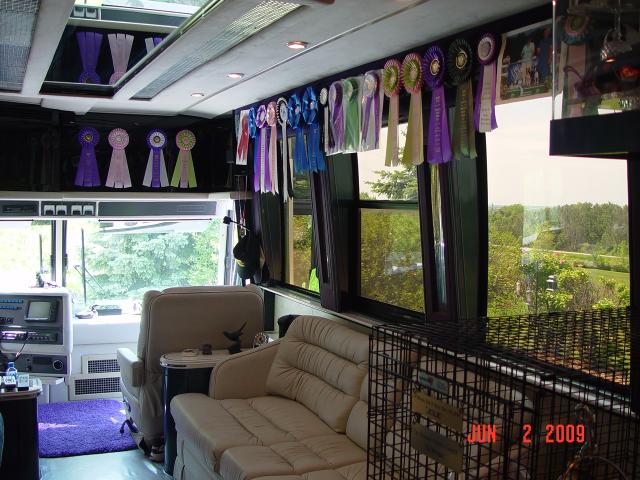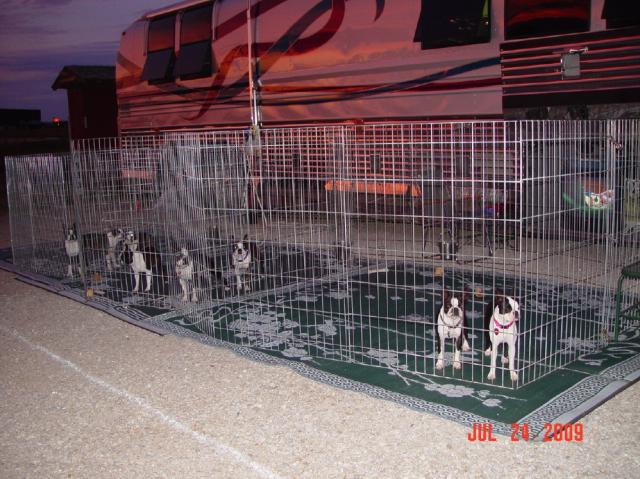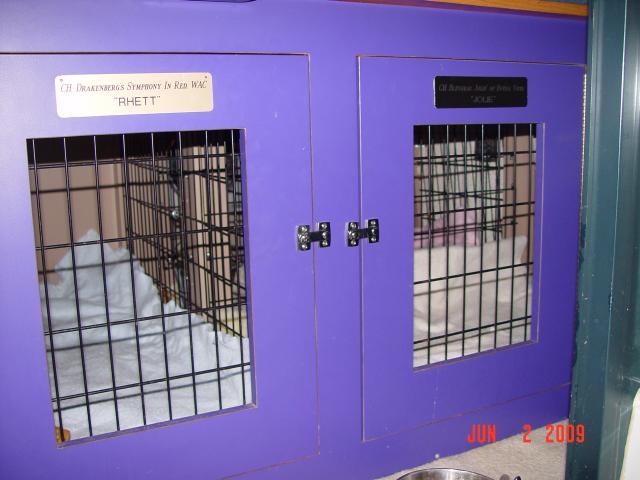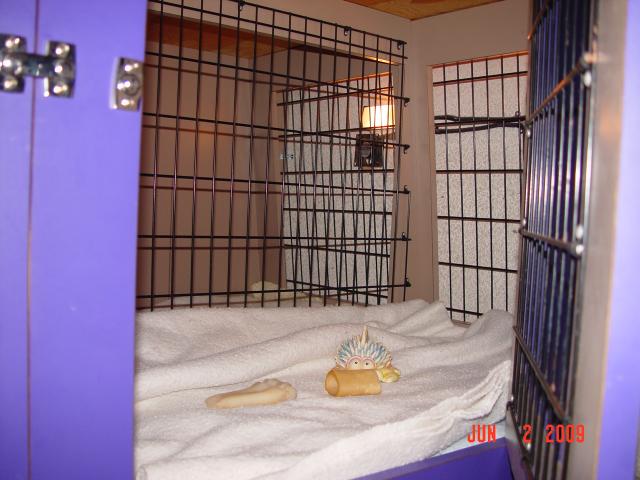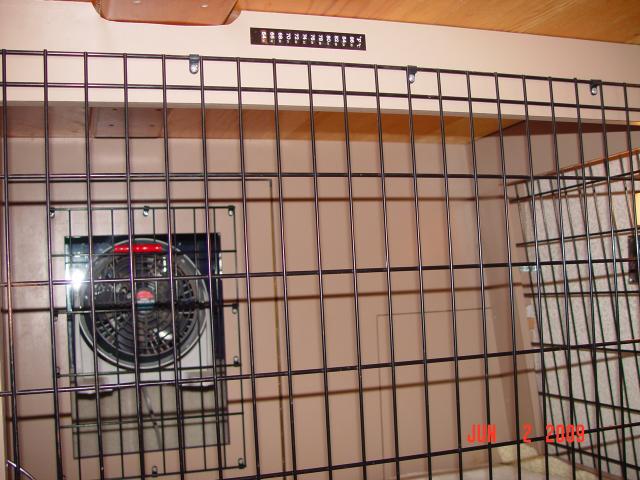 Here we are off season at our favorite campground to stay in just after entering Pennsylvania.  We have stayed with them so many times we were told to just take a campsight and then stop by their office in the morning before we leave, to pay......
Spending a quiet evening at the Waukesha Dog Show.
These are the custom crates we had built for our Dobermans.
The crate on the left goes the whole way across the foot of the queen size bed.  The 2 crates on the upper part of the bed have a door into each crate,  with an entrance from each side of the bed.
Some of our Dog Show ribbons.
And a few more on this side.......
 This is where Rhett or Beau slept.  Each crate is 32" high inside.
This is my Jeep Liberty I tow behind the Coach.
Here you can see through the first crate into the one beside it.  These 2 crates were for Jenny,  Belle and Bonnie.  You can see we installed 2 small lights and 2 small fans to keep air circulating.  We always had 1 male and 1 female Doberman loose with us to spraul out on each sofa up front.
A temperature tape is attached at the highest point inside the crates so I can tell at a glance what the temperatur is in side the crate area.
Here you can see we used panels from Doberman Crates as dividers between crate areas, so there is plenty of air flow.  Along with a larger fan hanging on the entrance door for added circulation during the summer months while the air conditioning was on.
On the right side of this photo you can see black wire crates.  They are used for my youngest Bostons, when we travel.  Then 3 adult Bostons in teh larger custom crate and 2 Bostons in each of the other 2 crates.  Water buckets and toys with their snuggle blankets, complete each "suite".